Halloween Ziti Dinner and Trunk-or-Treat

Tuesday, October 31

Along with the Bridgewater Recreation Commission, our annual "Trunk-or-Treat" will take place on Halloween night again this year. All children in costume invited to go trunk-or-treating in the church parking lot and along Main Street in the center of Bridgewater. Instead of going house-to-house, they visit decorated cars whose trunks are decorated and filled with goodies!

     Get some real food into your family before collecting all that candy at the Ziti Dinner here at the church! A free-will donation will benefit a local organization for the homeless or hungry.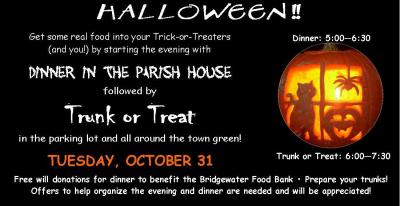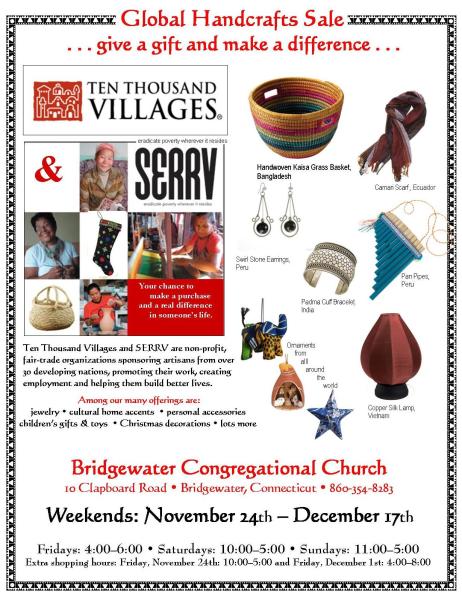 Fair Trade Shop

 Weekends

November 24th -- December 17
You'll find one-of-a-kind gifts at our international fair-trade store, featuring beautiful handcrafted items from more than a dozen developing nations...  jewelry and accessories, housewares, cultural home accents, musical instruments, children's gifts & toys, Christmas decorations and ornaments.

The global handcrafts are provided by the fair trade organizations SERRV and Ten Thousand Villages and small cooperatives in Kenya. As a benefit mission project, all proceeds go the artisans to sustain their work and their lives.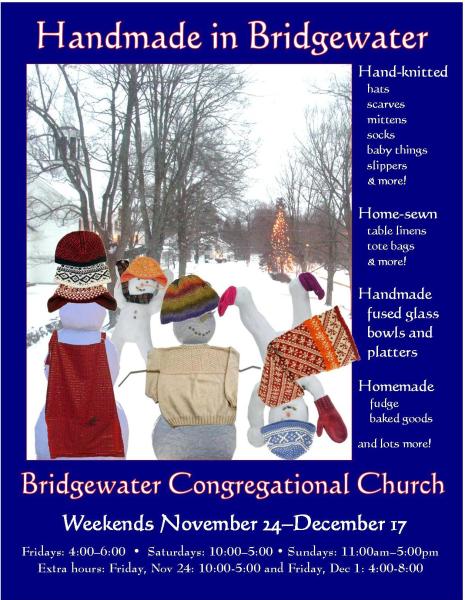 Handmade in Bridgewater

 Weekends
November 24th -- December 17

Our "Made in Bridgewater" handcrafts feature the talents of our local friends and include handknit hats, mittens, socks, scarves, whimsical Christmas figures and scenes and lots more, hand-sewn table linens, wonderful pressed-flower cards, freshly baked goodies, whimsical ornaments, seasonal decorations and much more.

Silent Auction


Weekends
November 24th -- December 17
There is a month-long Silent Auction of vacation weekends at Mt. Snow and Cape Cod, gift cards to area restaurants, inns and shops, original artwork by local artists, and more. Once registered, bidders may update their bids by email correspondence.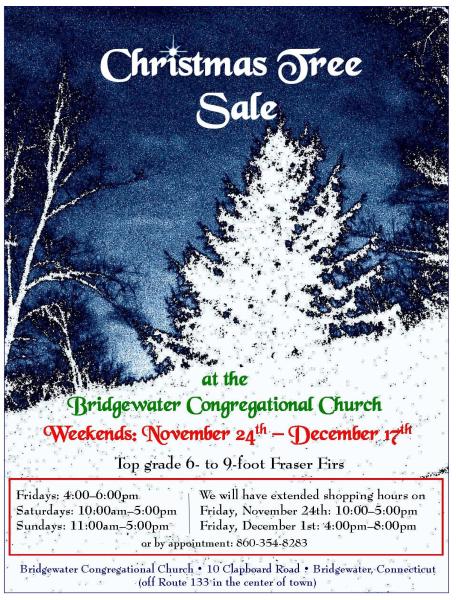 Weekends
November 24th -- December 17

Our first-class Fraser Firs range in height from 5- to 9-feet and are known for their long-lasting needles.  A good-old fashioned barrel fire and warm cider and cookies will give you some warmth while you mull over the trees. Proceeds benefit the Bridgewater Congregational Church.